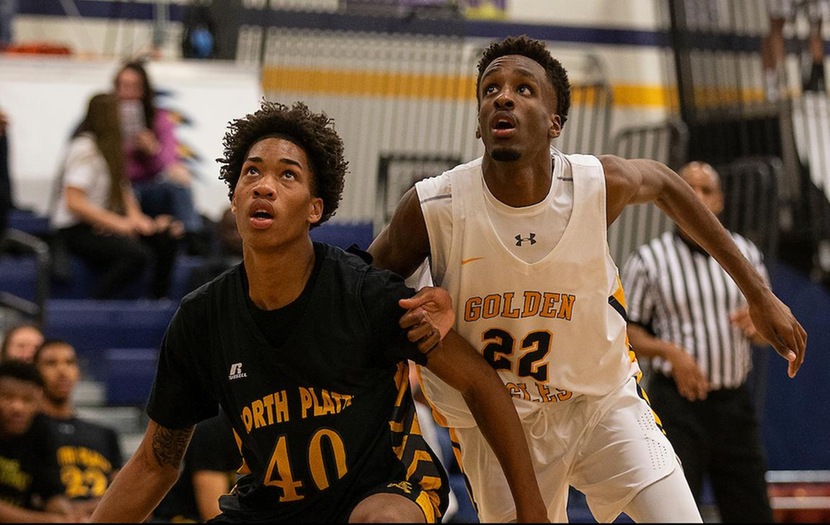 CHEYENNE – Seven Golden Eagles saw significant minutes last night as the Laramie County Community College Men's Basketball team put it all together Monday night in a 93-90 victory over #23 Western Nebraska Community College to improve to 7-9 overall. WNCC fell to 12-5 overall.
Three players scored in double figures led the charge for the Golden Eagles against the Cougars. Tyrese Potoma (Regina, Canada) had a team-high 28 points, followed by Mateo Zovko (Mostar, Bosnia) who had 22 and Cortney Dean (Denver, Colorado) finished with 19 points. It was the eighth time this season that Potoma has scored at least 20 points. He hit six three-pointers in six attempts on the night and dished out five assists. One of those three-pointers would turn out to be the game-winner with 2.4 seconds remaining. Dean was also feeling it from behind the arc as he hit five three-pointers in the game.
WNCC took momentum to end the first half with a 44-41 at the break. WNCC went on a small run but the Golden Eagles closed the gap. In the second half, the Golden Eagles responded with a couple of big three-pointers from Potoma, Dean and Zovko. The Golden Eagles led by as many as 10 in the second half but the Cougars trimmed the lead and took a one point advantage before the game was all knotted up at 90-90. With 2.4 second, remaining Potoma drilled a three-pointer to give the Golden Eagles the victory.
The Golden Eagles shot 47 percent from the field, 53.3 percent from the three-point line and 83.3 percent from the foul line, while the Cougars were 51.6 percent from the field, 52.4 percent from the three-point line and 72.2 percent from the charity stripe.
David Appelgren (Stockholm, Sweden) and Stephane Manzi (Nyamirambo, Rwanda) each pulled down a team-high nine rebounds. Appelgren also chipped in with four blocks. Daequan Spragion (Brooklyn, New York) had 10 assists in the game.
A short break for the Golden Eagles as they will begin Region IX North play on January 10 at home against Northwest College. Tipoff is set for 7:30 p.m.